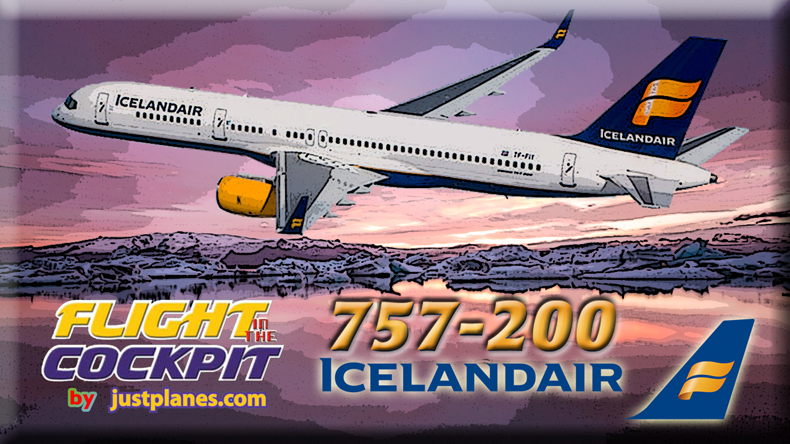 Exactly 10 years after visiting Icelandair for the first time we return to Keflavik for what is one of our best ever cockpit programs! So much has been gathered in the 4h30mins that its impossible to list everything but you will certainly enjoy some of the finest pilots in the industry along with a series of beautifully captured flights on some exciting routes from Iceland to North America & Europe!
+ Cockpit filming using up to 6 cameras for great views!
+ Filming on ground at JFK!
+ Pilot Presentations
+ Flight Preparations + Cockpit Set-up
+ Boeing 757 with standard cockpit (JFK)
+ Boeing 757 with new glass cockpit (ANC & FRA)
+ Pilot Briefings
+ Checklists
+ External Walkaround
+ Depature & Arrival Airport Charts
+ Cockpit Presentation + Etops flying
+ Polar flying
+ Fantastic Canarsie arrival into New York's JFK Airport runway 13 Left!
+ Dramatic air to air encouter with the Boston 757 over the Atlantic!
+ Midnight arrival into Iceland with great views of the midnight sun!
+ Amazing scenery on all flights, specially on polar flight to Alaska
+ Beautiful flight over Iceland with Captain's private Cessna
Flight Information

A/C

Reg

Flight

Route

Flt Time

Destinations

757-200

TF-FIT

FI 613

FI 612

KEF-JFK

JFK-KEF

5h59

4h45

KEF Keflavik, ICELAND

JFK New York JFK, USA

757-200
TF-FIJ

FI 520

FI 521

KEF-FRA

FRA-KEF

3h00

2h59

KEF Keflavik, ICELAND

FRA Frankfurt, GERMANY

757-200
TF-FIO

FI 679

FI 678

KEF-ANC

ANC-KEF

7h06

6h30

KEF Keflavik, ICELAND

ANC Anchorage, USA
Review by AvSim.com
The fact that this program was available on Blu-Ray and has since been sold out in a VERY short space of time tells us that this is not your ordinary Just Planes video program. While this is the second time that Just Planes has visited Icelandair, this program features some of the most unique moments of flight ever captured by Just Planes.
We begin our journey from Keflavik to New York with a briefing among the flight crew as they discuss important details such as the weather and routing. Once this is completed, we join the First Officer as he takes us on a detailed walk around of the 757-200 which was very enlightening. Other interesting highlights that stood out for our first flight includes a presentation on the cockpit of the 757, history of the 757 at Icelandair, ETOPS and an amazing landing on 13L at KJFK. While the return flight to Keflavik was entertaining, the next most outstanding segment of this program is featured in our flight from Keflavik to Frankfurt which showcased the 757 with upgraded avionics and a closer look at the cockpit preparation and FMS setup that is performed before a flight. Another equally interesting and visually stunning flight takes us from Keflavik to Anchorage which is a 7 hour flight to a region well known for its beautiful landscape.
The final bonus highlight of this program is a beautiful aerial tour of Iceland onboard the private Cessna of one of our Captains from the Frankfurt flight. This aerial tour showcases the lush green and ice capped terrain that is synonymous with Iceland. Ultimately, this program was undeniably one of the best presentations of the 757 ever captured by Just Planes and I think everyone will truly enjoy the insightful presentations from the cockpit and the beautiful scenery from the aircraft. Highly Recommended!