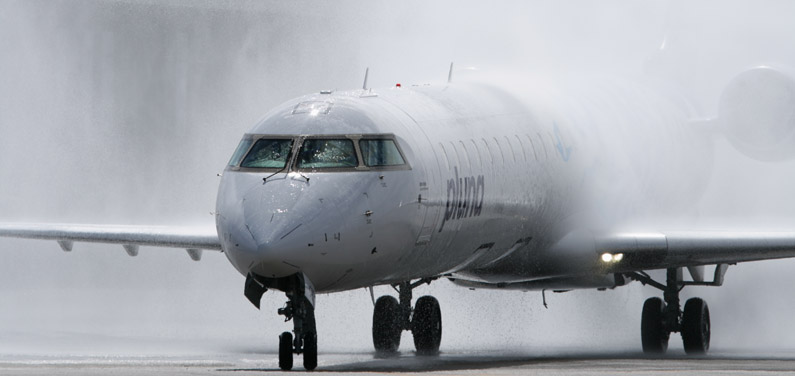 Pluna, Uruguay's national airline, operates a fleet of brand new CRJ-900s from its base at Montevideo Airport.
This program takes you in the cockpit of the 900 for a dozen flights on international routes across South America as well as on a short domestic hop from Montevideo to Punta Del Este.
You will get a detailed look and presentation of the cockpit as well as walkaround of the aircraft, 3 of the 13 flights are filmed from the cabin.
This DVD marks our 1st CRJ-900, 1st flight into Paraguay, 1st into Punta Del Este and 1st into the airport of Aeroparque. You will also discover some views filmed around the city of Montevideo.
Flight Information

A/C

Reg

Flight

Route

Flt Time

Destinations

CRJ-900

CX-CRA

PU 227

PU 175

PU 132

MDV-PDP

PDP-AEP

AEP-PDP

0h13

0h49

0h33

MVD Montevideo, URUGUAY

PDP Punta Del Este, URUGUAY


AEP Buenos Aires Aeroparque, ARGENTINA


CRJ-900

CX-CRA

PU 137

PU 192

PDP-AEP

AEP-MVD
0h39

0h27

PDP Punta Del Este, URUGUAY


AEP Buenos Aires Aeroparque, ARGENTINA

CRJ-900

CX-CRA

PU 222

PU 223

MVD-GIG

GIG-MVD
2h17

2h44

MVD Montevideo, URUGUAY

GIG Rio de Janeiro Galeao, BRAZIL

CRJ-900

CX-CRD

PU 701

PU 702

MVD-ASU

ASU-MVD
1h21

1h27
MVD Montevideo, URUGUAY

ASU Asuncion, PARAGUAY

CRJ-900

CX-CRB

PU 296

PU 297

MVD-ROS

ROS-MVD
0h51

0h44
MVD Montevideo, URUGUAY

ROS Rosario, ARGENTINA

CRJ-900

CX-CRE

PU 224

PU 225

MVD-GRU

GRU-MVD
2h03

2h24
MVD Montevideo, URUGUAY

GRU Sao Paulo Guarulhos, BRAZIL