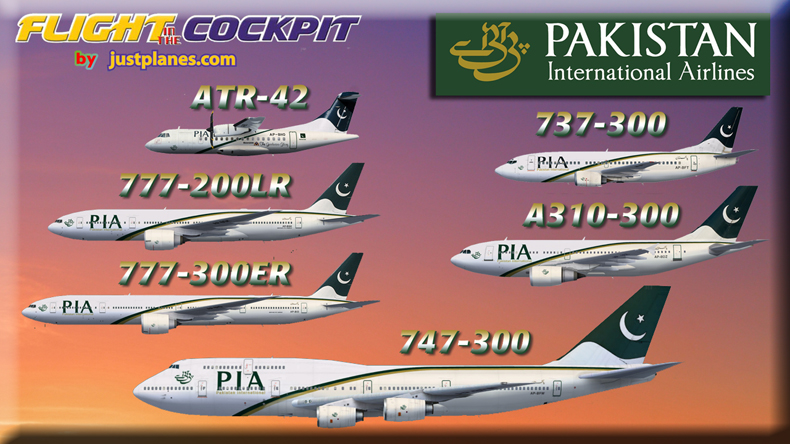 In 2012 a Just Planes team spent a week in Pakistan to capture the aircraft and some of the routes operated by PIA. The mission here was to give viewers a look at aviation and flight operations in the country. We're happy to welcome Pakistan International Airlines, the 273rd airline in our seriews! You will be treated to flights on the older classic generation 737 and 747 to the newer generation 777 with few presentations but lots of visuals.
Highlights of the program include the ATR-42 flight to Gilgit, a hub for mountaineering expeditions in Northern Pakistan. Gilgit has a short runway (1600m) located at the edge of a slope.
Skardu has a longer runway but at an altitude of over 8000 feet and surrounded by mountains the final approach is very complicated as you enter into the valley with sharp turns and obstacles on both sides. Our flight from Islamabad and back operates on the Boeing 737 classic 300 version.
Last but not least is a chance to fly one of the last passenger 747 classic aircraft and one of the last cockpits manned by a Flight Engineer. Only 81 -300s were built with just about none left in passenger service today!
Flight Information

A/C

Reg

Flight

Route

Flt Time

Destinations

777-300ER

AP-BID

PK 308

KHI-ISB

1h30

KHI Karachi, PAKISTAN

ISB Islamabad, PAKISTAN

737-300
AP-CBD

PK 451

PK 452

ISB-KDU

KDU-ISB

0h34

0h38

ISB Islamabad, PAKISTAN

KDI Skardu, PAKISTAN

ATR-42
AP-BHO

PK 605

PK 606

ISB-KDU

KDU-ISB

0h47

0h50

ISB Islamabad, PAKISTAN

GIL Gilgit, PAKISTAN

777-200LR
AP-BGY
PK 300
KHI-ISB
1h39

KHI Karachi, PAKISTAN

ISB Islamabad, PAKISTAN

A310-300
AP-BGR
PK 301
ISB-KHI
1h39

ISB Islamabad, PAKISTAN

KHI Karachi, PAKISTAN

747-300
AP-BFU

PK 304

PK 305

KHI-LHE

LHE-KHI

1h27

1h30

KHI Karachi, PAKISTAN

LHE Lahore, PAKISTAN